Beau (Swarovski)
After what felt like an age of trawling through overpriced and over indulgent adverts I had almost given up the hope of finding a sensibly priced new dressage prospect. I stumbled across Ryan Shannon on facebook and was immediately impressed with the quality of horses that he had in and the sensible approach taken in their early training.
I took the plunge and messaged Ryan to enquire about anything he may have suitable, discussing I wanted a horse that was sane and sensible enough to be produced my an amateur but with a little bit of *sparkle*. Ryan responded promptly, providing detailed videos, pictures and answered all my questions about the prospective horses he had.
We took the plunge, and one chaotic bank holiday we made the 4 hour drive. We arrived and Ryan was welcoming and had Beau ready to view, he was happy for us to stay as long as we wanted and see her both inhand and on the lunge.
There was no pressure selling and we did not feel that we had to make a decision there and then. Upon further discussion at home we decided to go ahead with the purchase and Ryan went above and beyond, making sure he was available for vetting times and also helping to arrange her transport to the lovely North West!!Since her arrival I've spent 4 months waiting for her halo to drop, she has been the most fantastic 2yo, taking everything in her stride and is a joy to own.
She shows all the makings of a super star and I cannot wait to get her started. Ryan has taken a keen interest in Beau since her sale, often asking for updates and was kind enough to send pictures through of her as a foal, which were fantastic to see.
Thank you so much for selling us a super star Ryan, I cannot wait to start her dressage career!
Alex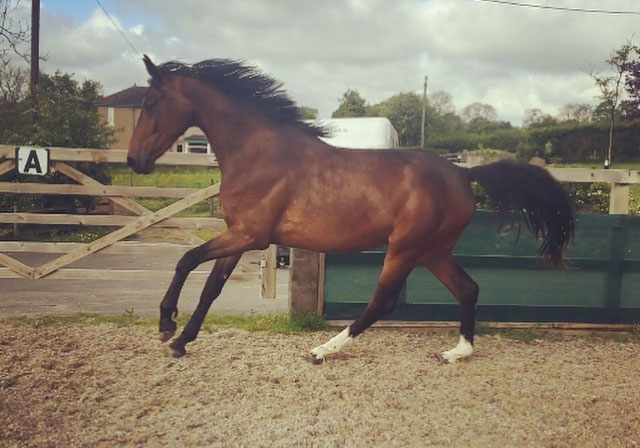 After what felt like an age of trawling through overpriced and over indulgent adverts I had almost given up the hope of finding a sensibly priced new dressage prospect. I stumbled across Ryan Shannon on facebook and was immediately impressed with the quality of horses that he had in and the sensible approach taken in […]